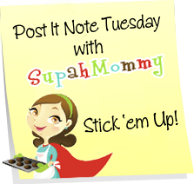 It's another Post It Notes Tuesday, Back to School Edition! Woot! Woot! Am I the only one excited that the kids are going back to school. It's been a long summer! The kids were getting restless and ready to go back to school themselves. I have two in Middle School 7th and 8th grade, one in Elementary School 5th grade, and my toddler who is being home schooled in an early childhood development program. He's two years old and very advanced, so he's doing a kindergarten curriculum. I'm proud of my Fab 4! Well, join us over at Supah's and link up!
My OCD is getting the best of me! My Post Its weren't lining up correctly so I took them down. I've played with the coding and tried everything and it kept messing up the page layout. SO… I'm going to tell you what was on my post Its!
Post It #1: Tomorrow is the 1st day of school for the kids. Woot! Woot! I was so ready for school to start and I think they were too!
Post It #2: For the last two weekends I've gone out, and NOT gone to bed bfeore 5 a.m. Needless to say it's NOT helping my sleep situation!
Post It #3: The sleep situation = I NEVER get any! Weekdays I'm up until 3 a.m. and I have to be in the office by 9 a.m. and the weekends are no better! I need to schedule a time to shut everything down, go to bed and stick to it!
Post It #4: I was featured on four different blogs yesterday, all by coincidence! Check out the features… It made Lil ole' me feel SPECIAL!
Post It #5: I'm going to be participating in the 31 days to building a better blog challenge. This should be real interesting! I'll be actively posting. Stay Tuned…
Post It #6: It wouldn't be a PINT, if I didn't get on a DUMB driver! PLEASE use your indicator when turning, I don't have ESP! Thank you very much!